First off, I'd like to wish my son, Dusty a
! We've been busy celebrating so I'm a bit late getting my post out. Sorry for that, but here he is with his son, Trevor. Gah, my kids are making me feel old!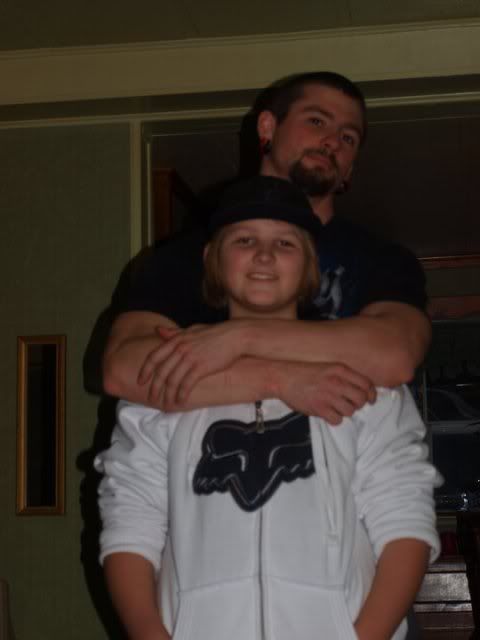 Okay, now on with my post....
In North Alabama, winter temps average around 40 degrees, give or take a cold snap or two. This year has been bizarre. We've had snowfall twice already. Once on December 25th, and although it was only about three inches, I loved it. For as long as I can remember, I've wished for a White Christmas and finally got one this year. But last week's snowfall, as beautiful as it was, is a different story. With eight inches on the ground, our area was at a standstill. No work for a few days and no school for a week. I didn't leave the house for eight days!
Can we say "stir crazy?"
Okay, I'll admit, we loved it for about two days, and then I wanted it gone. Morgan, Jackie and I played a bit, made a couple snowmen, walked around taking pics and throwing snowballs. The next day it grew bitterly cold.
Can we say, "Brr?!"
Too cold for Morgan to go out and play, for sure. We don't have clothes for this type weather, or boots. And me? Living in the south my whole life, the blood is a little thin. Lol. All I wanted to do is hibernate.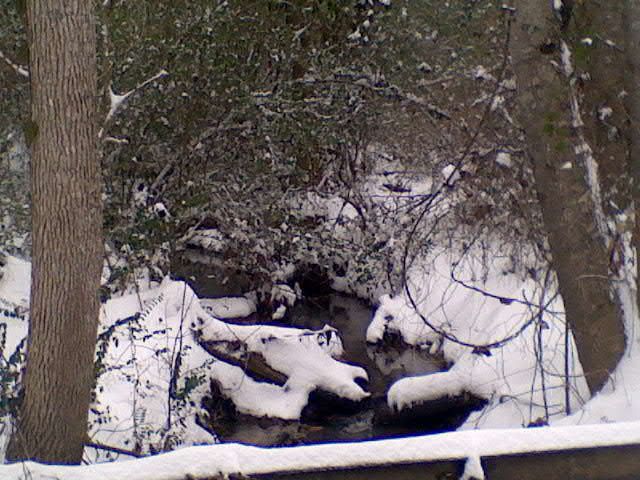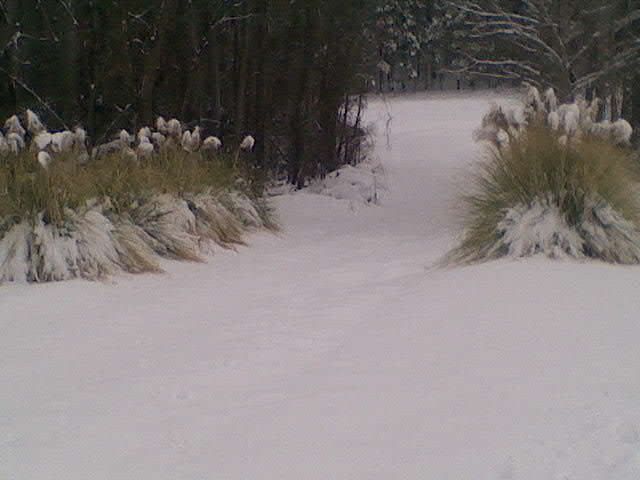 From the photos you can tell it was beautiful, but even beauty can be deadly. The third day, Morgan and Madison, my niece, who I was babysitting, wanted to play outside. We have a pond in our front yard, so I warned them to stay close to the house, play around the snowmen, and not go near the water. I kept watch on them through the window. Satisfied that they were following orders, I settled into my chair to check a few email and…
BAM! BAM! BAM! A frantic knock on the front window vibrates the wall, and sends me scurrying.
Morgan screams, "The puppy fell through the ice!"
I look out, and, OH. MY. God. The pond had frozen days ago, and the night before, we'd had an additional half inch of snow. Katie, our seven month old pup is floundering in the middle of the pond in an attempt to keep her head above water. The ice had thinned toward the middle, cracking under her weight. The only thing I can figure is, when she ventured onto the ice she'd thought she was walking on solid ground.
In a panic, I screamed for hubby. He flies out the door, runs this way and that, trying to find a way to save her. It's early, and still in my PJ's, I start yanking on clothes, all the while racing back and forth to the window. Katie continues to struggle, and with each thrust of her paws, the ice breaks more and more. Morgan calls to her, yelling encouragement, and poor Katie takes heart, battling even harder. Desperate, hubby tries to pull an aluminum boat, now full of snow toward the pond. It's useless.
Katie claws at the ice which has thickened closer to the bank. Dazed and confused, she gets a grip and scrambles up and out of the water. Morgan grabs her and brings her to the house where I wait with a blanket. We place her in front of the gas heater, dry her the best we can and wrap her in heated towels until the violent shivers subside and her coat dries a little.
A horrific ordeal for all of us, and especially our, Katie, but she's doing fine now, and seems no worse for wear. We're all just thankful to still have her with us. I hate to think what the outcome could have been. Katie started life as an abandoned and unloved baby on a lone mountain road, but luck was on her side. My oldest daughter found and saved her in the nick of time and brought her to us. She's a sweet and trusting little soul, and we love her dearly.
Maybe we should have named her LUCKY?
For a Dark And Sensual, Edge of Your Seat, Contemporary Romance, don't forget to check out my
Amazon Page.
I'm sure you'll find a title to tickle your fancy, and keep you warm on a cold winter's night. :)
And before I go, I'd like to tell you that One Touch, One Glance, A Collection of Romantic Tales will be out in PRINT sometime in February. Here's the new cover.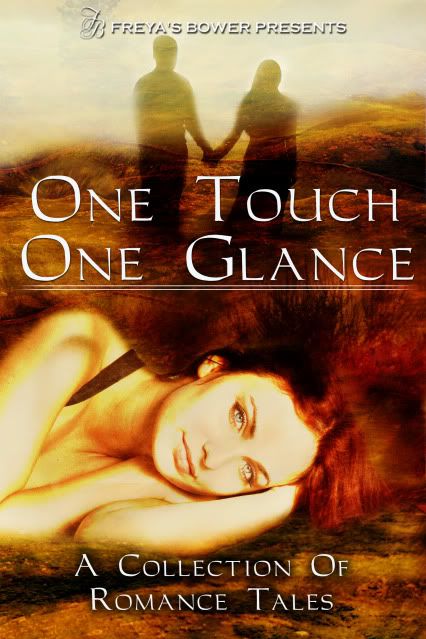 ~**~
Blurb
Elise, a widowed mother, finds attraction in the most unbelievable of forms—a toy store Santa with twinkling blue eyes.
Cade, drawn to mother and child, wars with inner demons from his past. Is his instant and emotional attachment due to the loss of his wife and child?
Both grieve extraordinary past losses. Will a Christmastime miracle heal Elise and Cade's wounded souls, allowing them a second chance at love?
~**~
Excerpt from The Unexpected Gift
Multi-colored lights beckoned Elise. Perched on her hip, her daughter, Jamie,
gurgled with delight. Elise pushed through the doors of Willingham's Toy Store, and the toddler's eyes lit with excitement.
They cruised the overstuffed toy aisles. A huge Christmas tree twinkled in the store's center. Nearing the tree, Elise spotted Santa with a child on his lap. She looked down at her daughter, her heart swelling with emotion.
I can actually enjoy Christmas now.
Two long years had passed. She hugged her daughter tightly. Thanks to her precious gift, life moved forward in its never-ending circle.
Elise stepped into the long line and waited. When it came their turn, she moved near Santa's chair. Her gaze locked with the bluest eyes she'd ever seen. He smiled and took Jamie onto his lap.
"What would you like from Santa this year, little lady?" he crooned.
Jamie grinned, jutted out her two tiny lower teeth, and gazed up at him through
innocent brown eyes. Drool spiraled from her mouth, dampening his hands.
"Ba-be," she babbled.
Elise laughed, and her daughter joined in. Jamie's tiny arms crossed. She imitated a mother rocking her child.
"She wants a baby doll," Elise explained. "Also a couple puzzles and a few fairytales. Jamie loves it when I read to her."
Jamie clapped her hands, giggled, and tugged Santa's beard.
"Be nice, honey," Elise scolded. She laughed, reaching for her daughter. "Let's not
disrobe Santa. We wouldn't want to traumatize the other children."
The toy store Santa smiled, and Elise's breath caught in her throat.
"You may think me forward," the Santa said, "but I'd love to have coffee with you on my next break."
Shock shuddered through Elise. She stepped back and scrutinized the Santa. His
eyes held kindness; his smile seemed genuine. What could it hurt to meet with him? She needed to move on with her life and stop hiding. In the coffee shop, they would be safe.
She looked down at Jamie.
"What time is your break?" she asked.
The Santa glanced at his watch, his smile barely visible behind the snow-white beard. "In ten minutes."
Elise nodded, mesmerized by his twinkling blue eyes. She hefted Jamie on her hipand eased away.
Ten minutes later, doubt heavy in her stomach, she sat in a coffee shop booth.
Reinforcing her hold on a squirming Jamie, she chewed her lip. Never had she acted so rashly before. Why had she agreed to this?
Christmas made her crazy. Why did the lure of a Santa suit and the warm glimmer of his eyes make her feel she could trust this man?
Damn, I'm just lonely.
Elise gathered her things, pushed up from the seat, and turned to leave. In her haste, she bumped into a hard chest and looked up. A face like none she'd ever imagined stared down at her. Hauntingly familiar blue eyes twinkled.
The man was no regular Santa; he was Santa extraordinaire. Heat fused throughout her body, tingled to the tips of her toes. She averted her gaze only to glimpse a light furring of hair through the vee of his blue shirt.
Lord above, it's been a long two years.
Read more...